MUSICAL PROJECTS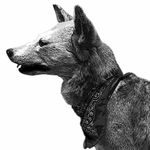 Jazz The Dog - The band is named after our mascot: Rick Zeek's stuffed dog named Jazz. Attracting stares and conversation, Jazz The Dog is: Rhan Wilson, Rick Zeek, Patti Maxine, and Michael Westendorp and together they play an assortment of Americana, originals, and soulful takes on popular songs.
Afro HiLife - Rhan Wilson plays electric bass for this afro-funk, "in the pocket," dance band with Elie Mabanza (guitar, vocals), Enahena (drums, vocals), and Mbor Faye (djembe and percussion).
Brookside - Guitarist and vocalist/songwriter Rick Zeek lead this core group consisting of guitarist/vocalist Rhan Wilson, bassist Terry Shields, and Patti Maxine on lap steel - Brookside performed a variety of Americana/Bluegrass and similarly inspired inspired gospel music.
White Chocolate Funk - Electric guitarist for this hypno-impro old school funk band.
ROMP - The name of this band began as an anagram of the first names of the members: Rhan Wilson (ukulele, guitars), Olaf Schiappacasse (drums), Matt Bohn (bass), and Patti Maxine (lap steel, guitar). Together they reinvented old songs "you forgot you remembered", changing tempos and often turning major into minor.
The Patrick Landeza Project - Rhan performed percussion for this project, joining lap steel wizardress Patti Maxine and bassist Matt Bohn.
The Planet Cruz Comedy Hour - Rhan was the band leader of this popular monthly show produced by comedian Richard Stockton. Performed at the Kuumbwa Jazz Center and The Rio Theatre - this show featured local as well as national talent.
An Altared Christmas - Held every year at the Rio Theatre in Santa Cruz, this show drew large crowds and became a local holiday tradition. 
An Altared Christmas LIVE 2007 - Starring a cast of 20, Rhan produced this first live version of the recorded CDs to a sold out crowd at the Cayuga Vault. Pro audio was recorded and resulted in the creation of a top notch CD. To see more information, go to: www.altared.com
Beneath Broadway - Starring Ukulele Dick, Katie McKee, Bonno Benard, Bob Burnett, and Rhan Wilson. This ensemble performed totally tweaked versions of Broadway Show tunes. There is presently one short video performance on-line. Click here to see and hear us perform at the "Keep Santa Cruz Weird" show. 
An Altared Christmas - CD
The Return of An Altared Christmas - CD
These CDs feature recordings of popular Christmas and Holiday songs that Rhan changed from their traditional major to a minor feel.The results are varied - some tunes take on a European feel, while others simply become funny, exposing the irony of all that happiness sung over a minor chord. Acting as casting director, Rhan brought in the talents of several of his best musical friends: Pipa Piñon, Daniel Lewis, Bob Burnett , Janet Roitz, Gary Regina, David Wallis, S.K. Thoth, Cyoakha, and Melo. For "The Return.." I added the talents of Dana Hutson, Mark Sowlakis, Tammi Brown, Paula Bliss, Rick Zeek, and The Great Morgani, accordionist.
The Drake Equation - This was a group of 5 core members who perfected their improvisation skills, meeting weekly for several years at the Cayuga Vault in Santa Cruz. All sessions were recorded and may someday be presented in part as a CD.
THOTH- Winner of a 1996 S.F., Weekly WAMMIE award, THOTH was a musical experience using theater, dance and ritual. The sound was been called "a blend of all the nomadic tribes in the world." Composed of violin, percussion and vocals, the music emanates sensuality and beauty.The CD "Maiden Flight" enjoyed national airplay and was listed in AIRWAVES TOP 50 , August of 1997. Violinist SKTHOTH has since gone on to New York, where he became the subject of the Ocsar winning documentary, "THOTH."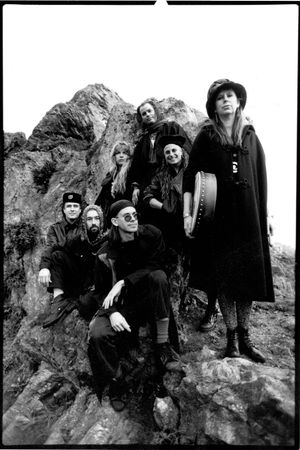 Haunted By Waters - Rhan was one of two percussionists in this San Francisco based band. The CD, "Like the Dust" is on XDOT RECORDS and was available at all Tower Records and Virgin Megastores nationally. In addition to Rhan, this recording featured singer Cait McWhir, David Hannibal on guitar and didgeridoo, Gerry Bassermann - keys,guitar and vocals, Cat Taylor on electric violin, Greg Stone on bass, and "Bean" on percussion and vocals. Bean was also the co-founder of the SF based band "D'Cuckoo" .
Erin Schwartz Band - This band consisted of Erin Schwartz on vocals, Ed Garnero on bass, Bob Burnett on guitar, and Rhan on percussion. They played jazz standards and originals.
ZOLA - Rhan played with this group for selected performances playing percussion. The band consisted of guitarist/vocalist/songwriter Marc Zola and cellist Eric Stein.
Took My Heart Away : This was one of Rhan's first solo projects. The recording contains three songs that he wrote, recorded and produced. Guest artists include: Bob Burnett (guitar), Gary Regina (saxophone), Dave Aldridge (percussion), Lee Beverly and Lisa Krueger (background vocals).
Haven Terrace - Rhan was a guitarist with this Santa Cruz based band. Founders were Bob Burnett and Laurie (Dizzy) Burnett. We played originals and cover tunes with an original, jazzy world-beat feel.
Dream Beach - Rhan played percussion with this very unique and popular group. A trio at first, founders Daniel Lewis (bass) and Pipa Piñon (vocals) . They played minimalistic jazz and melodic music with Pipa adding the vocals and dramatics. Pipa has gone on to record with Michael Hedges and husband Daniel has recorded with now defunct group "World Entertainment War".
The Bumps - This was a fun band that played raggae, funk, soul, calypso, rock... Vocalist and percussionist Coleen Douglas, Bassist Peter Wilde, Drummer Mike Strunk, and on Vibes Madelaine Nager. Rhan played guitar.
Flight - Rhan played lead guitarist for this rock band based in Santa Cruz. Flight played all the clubs, played all the covers of the standard rock tunes, though they managed to always gave them their own twist. They kept their own identity and had quite a following, cashing in on youthful exuberance and energy. This band lasted in various forms for many years, the four or five member keeping in touch and working on many projects together and apart. Bass player Lee Beverly (see "Took My Heart Away") is currently the bass player for The Eddie Money Band and keyboardist Stan Tristan is a songwriter living in Nashville.
The Paisley Pudding
THIS WAS RHAN'S FIRST BAND!! This was a band put together with the Kaspar Twins put together when Rhan was in the fifth grade. He played guitar, Nancy played bass, and Pat played a drum set which consisted of 1. a snare drum, and 2. a bedpan (used as a cymbal. Remember, they were only in the fifth and sixth grades - they had no money). They played for, Rhan believes, his graduation or something like that. Their awesome set consisted of "Hey Jude", "Train", and "Foxey Lady". Rhan wishes he could hear now what it sounded like. Nancy and Pat live in San Francisco Bay area and are still performing. The first thing Pat, Nancy, and Rhan tell anyone when they are together, is how, back at Happy Valley School in Santa Cruz, they started their fantastic musical careers with a band called "The Paisley Pudding".
THEATRE EXPERIENCES
SPIN CYCLE
Santa Cruz, California
Rhan was asked to create a variety of props for DeLaveaga Elementary School's Earth Day Celebration produced by Paula Bliss. For this show he created a giant guitar, several little cars the children could put on and "drive around in", and giant television and computer screens. He also designed and created a giant windmill contraption that changed into the revolving sun. This performance was then videotaped and called "Spin Cycle."
DOLL BOX
Santa Cruz, California
For this was a one-woman musical show, written and performed by Pipa Piñon, Rhan designed and built the set, obtained numerous props, designed, operated and installed lighting, designed and produced all graphic materials including: promotional photos, advertisements, programs, tickets, and billboards.
"The set and lighting design by Rhan Wilson are excellent. The set provides the atmosphere of a jumble sale, a fine contrast to the definitive music and the emotional starkness of Nancy's dream world, and the lights are alternately visually stunning and subtly enhancing"
Ann Bennett - Theater Writer, Watsonville Register Pajaronian
THE LAST STAIR AND STUMBLE
Theater Artists of Marin - Marin, California
For this ensemble production, Rhan designed and built the set, and obtained the props.
ANNA CHRISTIE
Tour De Force Theater Company - San Francisco, California
For this ensemble production performed at Enrico's Restaurant in San Francisco, Rhan had the challenge of designing and building a set that could be assembled and dismantled every performance night.
THE SHAPESHIFTERS
Live Music Performance - Santa Cruz, California
For this musical group, Rhan designed and built props for Pipa Piñon to use in her performance. Props have included: giant light switch and wall outlet, giant measuring ruler, assorted giant flowers, and various lighting effects.
Get on Rhan's Mailing List!
Rebecca Adams will bring her ace jazz band to the Kuumbwa and sharing the evening will be Jazz The Dog - the eclectic trio known for their unique renditions of covers, improvisational banter, and originals.