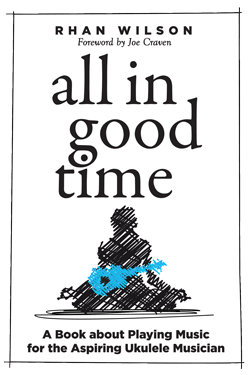 All In Good Time - the book
In this book, Rhan Wilson has assembled a collection of thoughts and helpful exercises, gained from his nearly 50 years playing and studying music. Rhan stresses the importance of rhythm and the lost art of "listening", as he encourages the reader to "let go" of the many self inflicted barriers to learning and growing creativity. With a foreword by Joe Craven, this book is targeted towards the growing community of ukulele players, yet could easily be speaking to any musician on any instrument. "Rhan offers here a humble, honest and heart-felt offering of what it means to truly connect to music making. This book is a guide that is both conceptual and pragmatic. Rhan reminds us to not to hold, or worse own, negative opinions about our abilities from others or created within ourselves. Now as an educator, he has become a country doctor of music - making house calls, applying nature's cycles and natural metaphors and with wonderful bedside manner. Rhan importantly reminds us to, occasionally if not frequently, in the inimitable words of Sir Ken Robinson, to liberate ourselves from the "tyranny of common sense" in the world of creativity. Echoing Robert Fulghum's brilliant book, "All I Really Need to Know I Learned in Kindergarten", Rhan brings it all back to the basics. Read this book. Rhan really gets it and so can you. Find the time to take your time to modify your behavior. Remember my mantra, "Success is not the key happiness...happiness is the key to success". Your table is waiting. It will come. You and the world will be better for it." Joe Craven Musician, Educator and Ambassador of Artful Living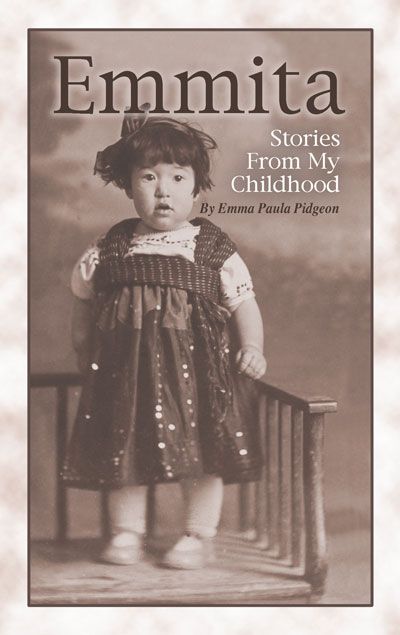 Emmita
Stories From My Childhood
Born in rural Mexico in 1928, Emma Paula Pidgeon grew up amid poverty, neglect and abuse. And yet, through it all, she is able to look back at these early memories with insight and often humorous reflection.
    As told to and transcribed by her son Rhan Wilson, Emma invites us to examine the goings-on of her early childhood. Whether it be in her story of the elderly man stuck to the seat of an outhouse, or her tale of the shunned and isolated woman with an injured leg, she describes a neighborhood permeated with superstition, gossip, and misfortune.
    In her recollection of these incidents – Emma Paula Pidgeon leaves many of them somewhat unresolved in the hope that we, the readers, might too ponder their meaning.
    In Emmita, this mother and son team present to you these stories of youth, old age, and the perseverance it took to get there and survive.
 
SOLD OUT. Please contact Rhan for more information about Emmita.
Jazz The Dog plays for a private party.
Rhan Wilson and Rick Zeek play their eclectic set(s) of Americana inspired originals and intriguing covers.