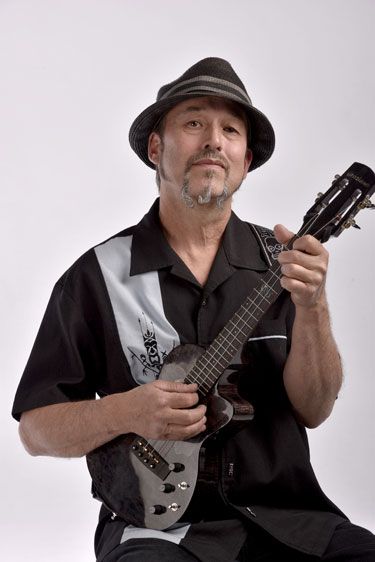 Rhan Wilson is active in the ukulele community in Santa Cruz, as well as up and down the West Coast.
He publishes a newsletter called, "The Uke News," (sign up at www.ukelist.com) and leads the group "The All In Good Time Orchestra," which has been meeting weekly for nearly 6 years, and has performed at the Kuumbwa Jazz Center and the Rio Theatre, opening for The United Kingdom Ukulele Orchestra.
With musical partner Rick Zeek, Rhan leads the increasingly popular "Matthew, Mark, UKE, and John" - a gospel themed ukulele singalong/workshop that meets monthly and is a featured event at ukulele festivals.
He has taught workshops at:
West Coast Ukulele Retreat
 (Here's a cool article about this festival: http://www.ukulelemag.com/stories/news/2018-west-coast-ukulele-retreat)
Sebastopol Uke Festival
Gold Pan Uke Festival, Auburn
Oo-Koo-Lay-Lay, Napa
Burning Uke, Big Sur
Smoldering Uke, Carmel
Uke U - Bend, Oregon 
Please contact Rhan for information about booking the Matthew, Mark, Uke, and John workshop, or any other workshop for your upcoming festival or event.
--------
WORKSHOP DESCRIPTIONS:
Playing Together
Playing together is most likely what attracted you to the ukulele in the first place. In this popular and informative workshop, Rhan shows you how to be a better group player, as well as a better leader. Understanding the basics: counting in a song, starting together, and ending together – are simple and effective ways to make your sing-along experiences even better than they already are. Learn some simple cues and signals and get started on a whole new level of playing.
 
Open Mic and On Stage Performance
In this workshop, you will learn tricks to improve your Open Mic performances, whether you're a newbie or a more experienced performer. Rhan will advise you on the proper use of microphones and monitors, as well as general tips on how to prepare for your turn on stage. Have stage fright? Well, there may not be an absolute cure for that, but there are some ways to focus on success that may help to soothe your nerves. Bring a song you want to perform and, if time allows, you can help to demonstrate to the class what we have learned. You can do it!
 
Basic Rhythm and Strumming
Want to learn some new strums? Well, once you get a handle on rhythm, you will be able to create more strums than you ever thought possible. Memorizing up-down, down-up, etc. is fine, but you need to know why that works before you will really be able to settle into a song with confidence and feel. In this workshop, Rhan will start you off simple – with a basic understanding of how time is counted while playing. Then, as you strum down and up, you will be able to "see" what you are actually doing while you are strumming. This is very basic information, yet it is rarely taught and explained.
 
Matthew, Mark, UKE, and John
Join Rhan Wilson and Rick Zeek for an expertly lead ukulele sing-along experience featuring uplifting and spiritual songs in the Americana genre and more. Their music book features large lyrics and easy to read ukulele chords charts to help players follow more easily.
Stay on your toes, however, as the R&R duo like to mix things up a bit with the arrangements; calling out alternate chords and endings to suit the moment. Bring your MMUJ books if you have them, or pick one up at the merchandise table.
Get on Rhan's Mailing List!
Rhan is playing bass with Elie Mabanza (guitar, vocals), Renato Annicchiarico (drums, vocals), and Mbor Faye (djembe, vocals.)